Nickel Creek played a show in Portland back in May but a prior commitment meant I missed them. They were still adding concert dates at that point and I knew if they played a show anywhere close to me, I was going to make the trek. Checking NickelCreek.com religiously, I saw a date added for August 1 - just outside Seattle. Done. I tried to find someone to make the trip with me, but no takers. Didn't matter. Solo road trip!
I wish I could start this post with an Amazing shot of the band... but, you must look at what I looked at for hours. I left with plenty of time to spare because I figured Friday afternoon traffic on I-5 Northbound was going to be bad. I would have to pass through Portland, Vancouver, Olympia, Tacoma and get to the NE side of Seattle by the 7pm start time. I underestimated. At one point, I went 4 miles in an hour. I did the math and with 5 hours before start time and more than 50 miles to go, if that pace continued, I would have sat in traffic for hours. It is not
unheard
of.
I made it. The concert was held at the amphitheater of the Chateau Ste. Michelle winery in Woodinville.
There were shuttles to a free parking area over a half mile away but I didn't like the idea of walking back to my car afterwards in the dark without a friend... so I paid to park next to the venue. (This proved to be a very smart decision as I left - There were tons of guys directing traffic out of the venue and I never even had to slow down.)
And lest you should worry, there is an actually Chateau on the property. Anything not connected with the concert closed at 5, but it would be a cool place to visit on a non-concert day. The property was beautifully landscaped (says the plant geek).
This venue allows you to bring just about anything inside the venue: picnics, chairs, blankets - everything except outside alcohol. But its a winery so they would sell you wine by the bottle.
I walked around a little to get the lay of the land - and because my seat is one of those green one's right in front of the stage that are cooking in the sun about now. This pasty white girl waited in the shade! Lawn seats were first come, first served so they had to save their space. I chilled in the shade or inside the "reserved seats only" indoor shopping area until about 5 minutes before the opening act hit the stage. The sun was setting into the trees behind the venue so it wouldn't be long.
The opening act for this stop: The Secret Sisters. They are from Alabama and were entertaining. I especially enjoyed the Southern accents. Makes a girl feel at home.
And then the stage was reset for Nickel Creek. If you know the band, you know where they will be singing from the mic setups. They are clearly different heights.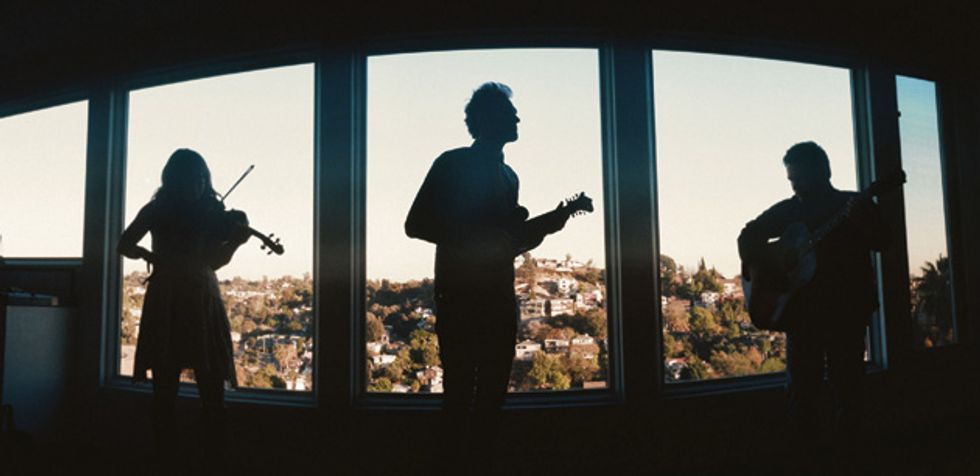 The band took a hiatus after the 2007 "Farewell for Now" tour and I would say I followed Sara Watkins' career the most. Her "In the Sun" album is great. I like the band for the musical interplay between Chris Thile's mandolin, Sean Watkins' sweet guitar and Sara's violin. And each of them take turns singing lead. Damn - I had good seats! Can you believe this seat was only $55?
They were worth not only the ticket price, but also the 12 hours of driving... and the hotel room... And the nail in my tire and the subsequent hour wait at Les Schwab Tire Center... and working on Sunday because I missed Friday... and waiting an extra 2 months to see them They played a full two hours. I left with a perma-grin plastered to my face and I couldn't sleep! I am just so happy they are making music together again.
And just because I have friends that would want to know, the setlist was something like this:
Rest of My Life
Scotch & Chocolate
Destination
Smoothie Song
Reasons Why
21st of May
When In Rome
Tomorrow Is a Long Time
Ode to a Butterfly (or what Thile deemed "Ode to an Upside Down Tree" after he spotted a weeping evergreen from the stage)
Jealous of the Moon
You Don't Know What's Going On
Somebody More Like You
The Lighthouse's Tale
Anthony
Elephant in the Corn
The Ledge (a Fleetwood Mac song)
When You Come Back Down
Hayloft
The Fox
Encore:
First and Last Waltz
Helena
Cuckoo's Nest
Where Is Love Now